NVR 5 à 32 CHANNELS 2 BAIES
DS-2005 DIGISTOR NVR est un NVR autonome à 2 baies puissantes. Il donne un système de surveillance de réseau complet avec la télésurveillance performant d'enregistrement.







DS-2005 a 32 voies

All-in-one Features of DIGIEVER NVR (Network Video Recorder)

DS-2005 DIGIEVER NVR is a powerful 2-bay standalone NVR. It gives a complete network surveillance system with outstanding remote monitoring and recording performance.

        
DS-2005 & 32 channels is a 2-bay Linux-embedded standalone NVR, powered by high performance RISC CPU and performs excellent network surveillance of multiple IP cameras up to 5 & 32 channels of single server and up to 144 channels of multiple servers. DIGIEVER NVR supports remote browser monitoring, multi-layer dynamic E-Map, multi-megapixel recording and smart search playback. The monitoring demands can be satisfied anywhere and anytime by local display monitoring, remote browser monitoring, iOS and Android mobile monitoring.
With intuitive Quick Configuration, users can finish trouble free installation in only five steps on remote browsers. The Linux-embedded NVR supports event/schedule recording, automatic recovery, threshold of recorded videos and video clip. Through event and action management, DIGIEVER NVR lets user set various events and actions for instant alert. For emergent need of video duplication, DIGIEVER NVR is equipped with diverse backup methods so that users can freely backup recorded videos to USB dongle, NAS, Dropbox, etc. In terms of security control, user privilege management and log system offer user detailed information for security control. All these essential features can be configured quickly on remote browser interface.
DIGIEVER NVR Powerful Network Surveillance Features
Real-time Remote Monitoring
 
DS-2005

& 32 channels DIGIEVER NVR offers instant monitoring via remote web browsers anytime, anywhere
Mini-CMS Server Monitoring
Various Web browsers
Multi-window Operation
Various Monitoring Modes
Convenient Control of PTZ and Speed Dome Cameras
Two-way Audio between PC and IP Cameras
Digital Zoom in/ Zoom out

   
DIGIEVER NVR lets users monitor remotely via five main browsers in Windows, including IE, Chrome, Firefox, Safari and Opera browser. In remote browser interface, offers 1/3/4/8/9/10/12/16/20/25/30/36/42/49/56/64 & 5+1/12+1 channel & sequential and full screen display modes and supports up to channels. DIGIEVER NVR can be a mini-CMS server to connect other DIGIEVER NVR and select a maximum of 144 channels as well as simultaneously monitor other remote NVR sites without installing any extra VMS software. Also, remote monitoring offers control of PTZ camera and lets users view all preset positions of the IP camera.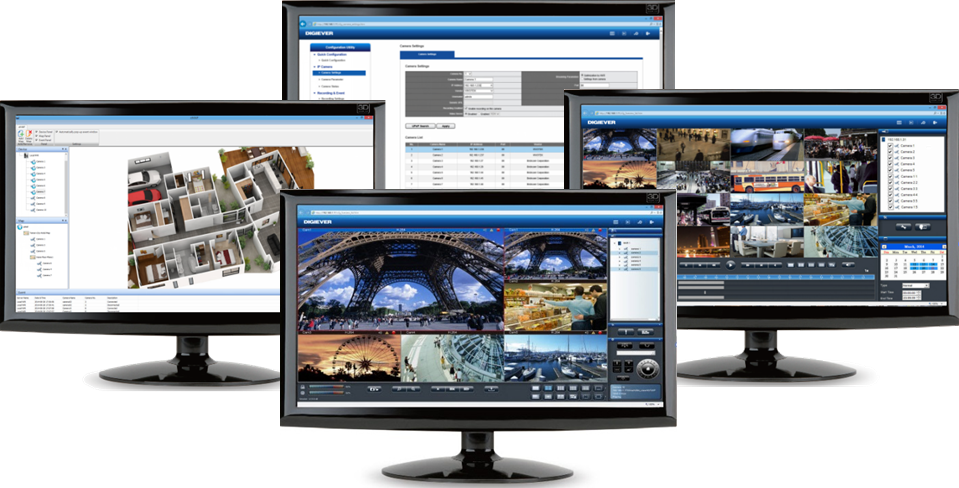 Quick Navigation with Dynamic E-Map
Multi-layer Maps
Pop-out Event Window
Event Log History

  
Dynamic E-Map on liveview monitoring as a quick navigation can indicate the physical location of cameras. Users can expand multi-layer maps in different perspectives and deploy cameras on the maps. When an event is triggered, a window will pop out to notify user and display recording video to users; therefore, users can quickly locate event site and take appropriate actions to minimize event lose and damage. Furthermore, event log history offers a detailed and latest list of event history to make users easily control the event situation with zero error possibility.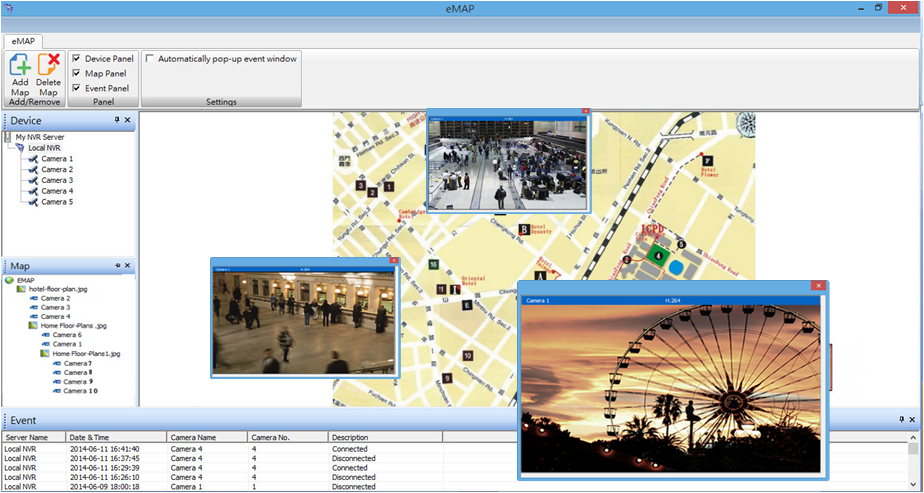 Excellent Video Recording
Smart and scheduled recording
Various Compression Formats
Various Recording Modes
Flexible Threshold of Recorded Videos
Multi-stream for Monitoring & Recording
Flexible Recording Stream Setting
Flexible Video Formats: Play in NVRPlayer or in General Player

  
DIGIEVER NVR gives users high performance megapixel recording and supports MJPEG, MPEG-4 and H.264 formats. Users can configure different recording schedules such as continuous, schedule, event and audio recording for each camera in high megapixel recording. Users can also set recording percentage or days for keeping videos to overwrite the oldest video files automatically. Furthermore, DIGIEVER NVR supports multi-stream to let users set video format, frame rate, resolution and other features in different conditions to save bandwidth for monitoring and recording. Furthermore, with flexible recording stream setting, users can also decide to record videos either in higher resolution to view more detailed information or in lower resolution to save more HDD's capacity. Finally, to satisfy diverse surveillance requirements of recording video, DIGIEVER provides two recording formats for different safety concerns. For higher security concern users can only view videos via NVRPlayer while for normal security concern users can view videos via general video player such as Windows Media Player, VLC, including NVRPlayer to easily view recorded videos.

Powerful Event and Action Management
Diversified events and corresponding trigger actions
Events:
Camera connection lost, camera motion detection, camera audio detection,
camera digital input, NVR connection lost, recording error, UPS low power
warning, storage threshold warning, abnormal shutdown, external event
(HTTP in), built-in digital input, CPU temperature warning, CPU fan warning,
system fan warning, HDD error warning, HDD fail warning

Actions: 
Alert sound, event log history, video pop-out window, highlight video window,
event recording, E-Mail notification,video clip/ snapshot via E-Mail, SMS, buzzer
alarm, go to pre-set point, camera digital output, external IO box, user-defined
digital output and built-in digital output

  
 
DIGIEVER NVR can support up to 16 event types and 15 action types to inform users event occurred and to mininize event lose and damage.
When an event is triggered, such as motion detection or digital input, DIGIEVER NVR can take various actions such as recording video in the server and sending a video clip instantly to users by E-mail. In addition, buzzer can be enabled to sound up to 60 seconds as abnormal events occur. Users can also define digital output actions by themselves, such as fire alarm system.
Intuitive Multi-channel Playback
Intuitive playback and clear interface to view recorded video
User-friendly Video Search by Date, Time, Channel, Normal Record, Event and Recovered File
Event Instant Playback on Liceview and Playback
Frame by Frame Playback
Export Recording Files

Specifying Start Time and End Time to do Quick Export
Instant Export to Export Videos while Playback Videos

Taking a Snapshot

 
DIGIEVER NVR lets users search the recorded video by selecting date, time, channel number, normal record, event and recovered file. Users can select display modes with more flexibility from 1/4/9/16 for playback to have an intuitive checking on recording file. Frame by frame playback and rewind features help users to locate needed video image.
Portable NVRPlayer
Portable Video Player
Multi-channel Playback via Playlist

 
DIGIEVER designs a portable video player to play recorded videos named NVRPlayer.Users can directly view recorded videos with no need of installation. Besides, NVRPlayer can play multi-channel videos via playlist which is exported from instant export.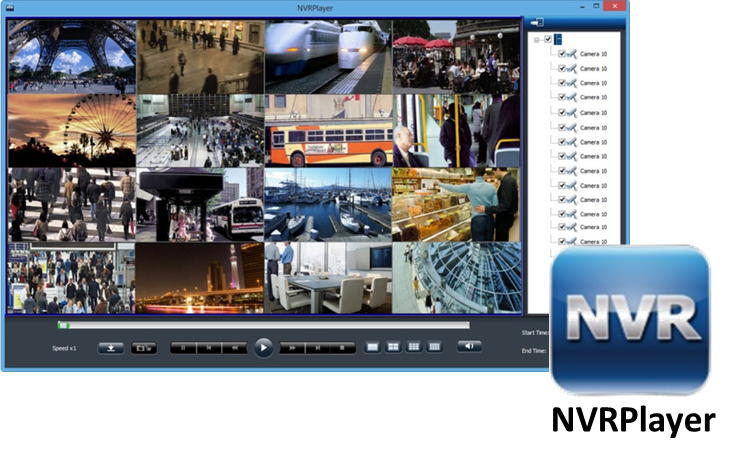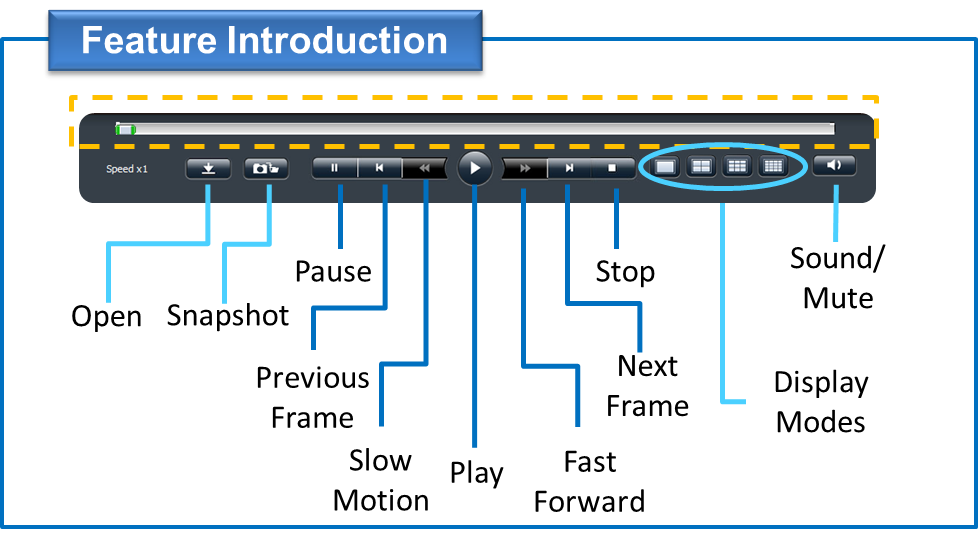 Smart Search
Motion Detection
Foreign Object Detection
Missing Bbject Detection
Camera Tampering Detection
Lose focus
To make surveillance more intuitive and easily, DIGIEVER creates a new feature named Smart Search to help users quickly find out key video at the specific moment with five detection modes, including Motion Detection, Foreign Object Detection, Camera Tampering Detection, Lose Focus and Missing Object Detection.

Advanced and Reliable Security System
Reliable security choices in DIGIEVER NVR
Stable and Secure Linux-embedded System
Detailed Log Information
User Privilege Management
Flexible Permission and Prohibition of IP Range for Controlling the Access

  
DIGIEVER NVR is a Linux-embedded operating system which is efficient to avoid virus attack and hacker intrusion. Compared with PC, Linux-embedded system offers more green and power saving. With over six clear log systems, users can do quick trouble shooting and security control of DIGIEVER NVR. As for privilege management, administrator can add multiple user groups like power user and user to configure live view and playback access. Besides, users can specify IP address or network segment to permit or prohibit specific IP address as white or black list from live view or playback access.
NVR Failover and System Monitoring
Failover Server Monitoring:

Check NVR and HDD status every minute
Monitor up to 4 NVR recording servers in default (Option up to 16 NVRs)

Failover: Take ever failed NVR for monitor and recording
Failback: Original NVR retakes and continues its original video recording and monitoring function
NVR failover is a reliable backup solution to ensure the reliability of DIGIEVER IP video surveillance system for long-term video recording and monitoring. Failover server wil check the status of NVR recording server and HDD every minute. Failover server only takes over some settings of failed NVR recording server to maintain DIGIEVER IP video surveillance system: Camera settings, Recording settings, Event and action settings, Email settings and Server setting (server name with UPnP and admin username/password only.) Besides, once NVR recording server cannot record video to HDD, failover server will take over it (except for RAID fault tolerance situation.) Failover NVR will cease take over failed NVR as soon as the failed NVR becomes functional. Users can also check NVR log system for detail NVR information. On NVR recording server, users can playback videos recorded in failover server on remote web browsers.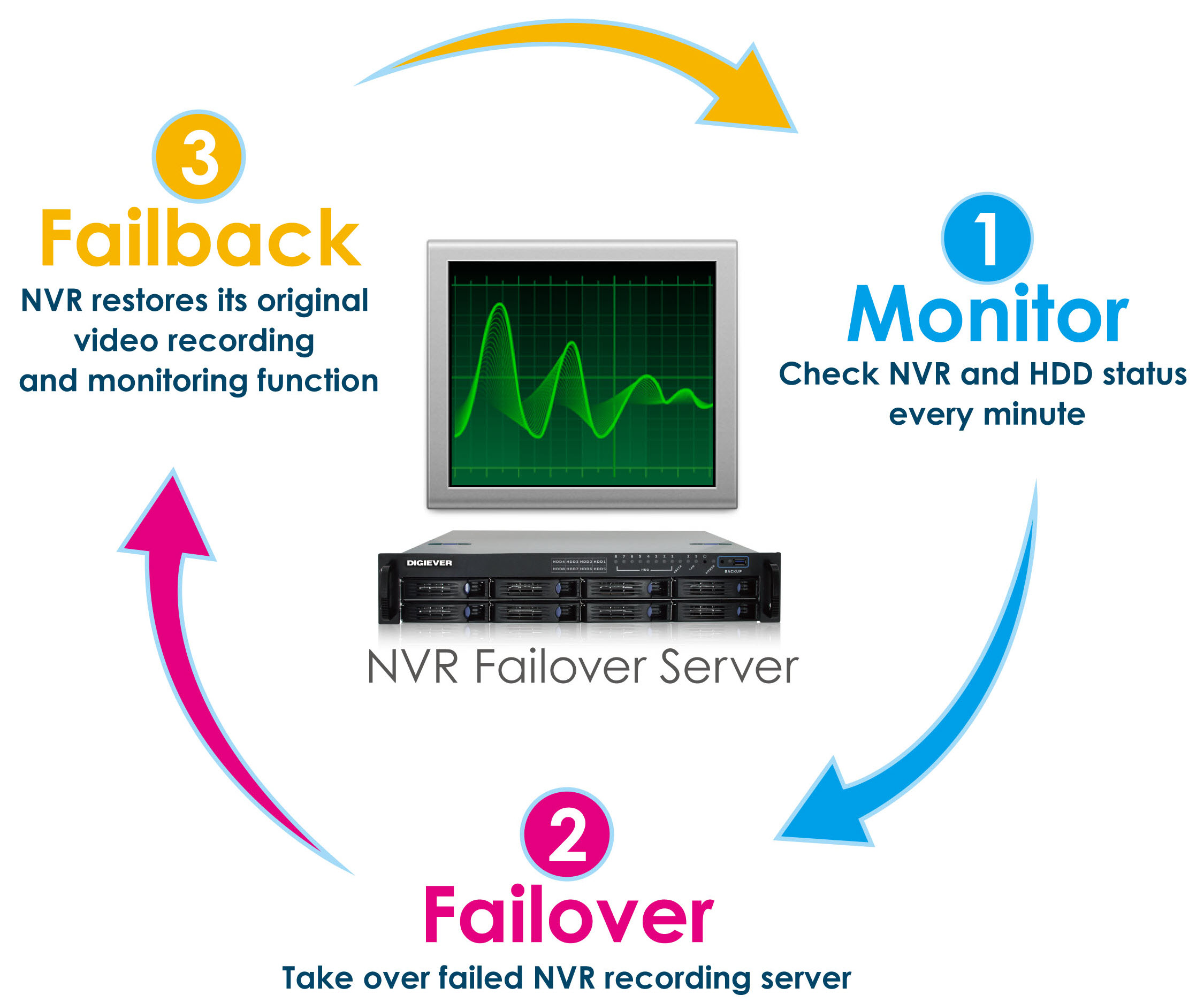 *Failover Requirements
1.DIGIEVER NVR Lite series can only be treated as NVR recording server monitored by failover server.
2.To configure NVR failover feature, please upgrade firmware 2.1.0.54 or above on both failover server and NVR recording server.
3.Failover license channels must be more than NVR recording server license channels.
4.One NVR recording server can be added into "one" failover server.
Integrated Access Control Server: Centrally Guard Your Entrance
Control up to 4 Acess Control Devices (Option up to 16 devices)
Centrally Manage Card Information
Quick Data Filter and Export Access Log from Card Reader
 

 
DIGIEVER NVR supports access control system for door monitoring and card management. Users can centrally open all doors and control who can access the door by adding card information to each card reader. Via data filter, users can easily check historical access information and export desired data to your PC. Users can also synchronize access systems with NVR's time for future log tracking.

Integrated Modbus Analog I/O-Digital I/O Box Server: Smartly and Flexibly Control Your Environment
Support Modbus Analog I/O-Digital I/O Boxes for Smart Environment Control
Flexibly Name Suitable I/O for Event and Action Management

 
DIGIEVER NVR supports Modbus Analog I/O-Digital I/O boxes to satisfy project requirements where users pay more attention on environment control such as factory and warehouse. Users can name each input and output to desired name and based on the name quickly set up event and action configuration.
*One NVR can connect up to 4 Modbus Analog I/O-Digital I/O  boxes in default. (Option up to 16 boxes)
**DIGIEVER NVR supports Advantech s Modbus Analog I/O-Digital I/O box for now: ADAM-6024
Smart, Simple and Mobile Enhancement
Smart enhancement brings you more convenience
Monitoring Everywhere via iPhone and Android Operating System
Intelligent EZ Search of NVR
Trouble Free Installation in 5 Steps

  
No matter where you are, you can monitor live view through iPhone or Android phone and control PTZ camera. Besides, with EZ Search, users can quickly find NVR in the network and connect to web-based interface. In only 5 steps, users can finish Quick Configuration in web-based interface.
Diverse Built-in Backup Methods
Configuration in advance Save time for backup in convenience
USB Backup 

​Backup with Day, Hour, Minutes and Channel Preset
Efficient Hardware USB Backup Button

Remote Backup to NAS
Cloud Backup with Dropbox
Export file on Playback

  
To ensure the security of confidential videos, DIGIEVER NVR provides diverse built-in backup methods to back up vital recorded videos in different situations.USB backup provides users a quick backup solution for emergency situation.Users can set a maximum of days, hours and minutes to backup the latest video files and configure the specific channels for duplication in advance. After setting the time and channels, users just need to press USB BACKUP button on the NVR and then export the video files to external USB device . When an urgent need arises, video files are backed up efficiently and quickly.For daily backup, Users can routinely backup videos with Remote Backup to NAS server to storage confidential videos for a longer time. When users wants to share some videos to friends or colleagues, Cloud Backup with Dropbox is an useful method to drag the specific video on Dropbox.
Superior Hardware Design
DIGIEVER NVR's excellent hardware performance truly enhances your efficiency
High Network Throughput for High Megapixel Recording
Supports up to 5TB Storage Capacity per Hard Disk Drive
Built-in Advanced RAID Configuration with Hot Swap Design
Automatic Recovery from DIGIEVER NVR Power Outage
Built-in GPIO: 4 in 2 out
Storage Expansion by eSATA Interface

     
DIGIEVER NVR is powered by RISC CPU for excellent megapixel recording and provides network throughput up to 150Mbps. DIGIEVEOR NVR supports the hard disk drive up to 5TB per drive. Through DIGIEVER NVR, users can configure JBOD, RAID0 and RAID1 in web-based interface; hot swap design allows users to replace failed HDD without turning off the server. DIGIEVER NVR will also automatically recover when power resumes after an outage and recover missing file caused from power outage. On the other hand, DIGIEVER NVR supports built-in General Purpose I/O for both choices of setting digital input and output. By eSATA, users can also connect DIGIEVER NVR to DIGIARRAY, an external storage box, for long-term video storage requirements.
Various Network Services
Simple and functional complement of network video recorder
Built-in DHCP Server
Built-in NTP Server
DDNS Service
Static IP or DHCP
HTTP/ HTTPS
Quick UPnP Search for Connecting Camera
Windows Networking and FTP Service

 
With no need of router connection, DIGIEVER NVR supports built-in DHCP server to assign local IP addresses to other device in a local area network (LAN), which makes installation become much easier. DIGIEVER NVR supports NTP (Network Time Protocol) by selecting time zone for synchronizing the date and time. Users can register a domain name from a dynamic DNS (DDNS) provider and enable DDNS in DIGIEVER NVR. Users can set either static IP or DHCP on DIGIEVER NVR. For users with higher security concern, DIGIEVER NVR supports HTTPS to enhance security of network communication. Besides, users can quicky add IP cameras via quick UPnP search in LAN. With Windows networking and FTP service, DIGIEVER NVR allows users quickly access the video files.
DIGIEVER_NVR_ds-2005-a-32-voies-All-in-one_Solution_Datasheet-1.pdf